Tuesday, May 31, 2005
The worst rule ever
The best mascot ever: LAYLA!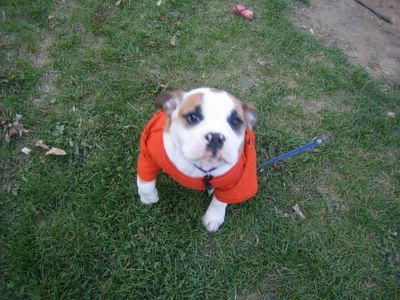 I think I speak for the whole team, though, when I say that it is in everyone's best interests if Layla never meets our original mascot, Rusty. Let's just say he would be even less inflatable.

Thursday, May 26, 2005
Week 5: Welcome to the Wrangler Jungle!
Week 5 Recap
(Tdubs Whalen is filling in for Captain T-Dizzy, who is on a special WAKA assignment)
"Do you know where you are? You're playing the Wrangler's baby! You're gonna CRRRYYYYYYY"
- A Lyric from the upcoming single "Welcome to the Wrangler Jungle"
(for added effect, put on the theme to Miami Vice on repeat when you read this)
Last night, if you didn't know it was a kickball match, you would've swore you were at a taping for VH1's The Eighties are Awesome or a Where Are They Now? convention. Everyone from iconic pop divas to hard core heavy metal artists to TV fixtures were on hand - Cyndi Laupers, pre-slut Madonnas, Billy Idol types (one mullett-ed, one with the trademark blonde spike), and Joe Elliot from Def Leppard amongst others. Even Miami Vice star Sonny Crockett, who many say "rocked" in his own way, was on hand. With all this talent in the same place, it's a miracle that "We Are the World, Part II" didn't spontaneously get recorded.
Well, what did happen was so offensive that even 2 Live Crew thought it should be banned…a 13-3 annihilation of Is It in You?. And to answer their seemingly rhetorical question, Yes, like a topless groupie beneath Def Leppard's stage, "it" is indeed "in you" after last night. With the "it" being the Wrangler's and the "you" being their heads. (see, that last line really wasn't that dirty). Although perhaps we were already in their heads as evidenced by pitcher and general loud mouth Tall Socks who got plastered before the game. "When I saw the Wranglers on the schedule," explained High Socks, "I immediately reached for one bourbon, one scotch, and one beer 'cause I knew it would be a long night."
Much like a parent at a New Kids on the Block concert, it was indeed a long night for the Is Its. Despite being down several players and their team leader, Captain Tara Dix, being off on assignment, Rusty's crew still came to play. It was a sea of bad hair, bracelets, leg warmers, hoop rings, more hair, mini-skirts, delicately ripped jeans (again, props to Ryan), bad suits, kilts, put-outs, even more hair, hits, and runs. The Wranglers were kicking with an intensity that had not been seen since the video for We're Not Gonna Take It, by Twisted Sister. Everyone in the lineup from top to bottom was literally kicking the snot of the ball, except perhaps for Wheels who reached twice on her specialty - the Bunt. It even got to the point where the Mullet Man Ryan Swett got intentionally walked like an egyptian - the first in team, and perhaps league history. CoCo "My favorite band is the Go's Go's" Reid was stellar on the mound as she gave up only 3 runs over 5 innings. The fielding was also tremendous, especially Dave "Hysteria" Osborne who made 2 nice Baryshnikov-like grabs at SS, Michelle "Bananarama" Dooley who was our venus, our fire, at 2B, and Rick "Rebel Yell" Brands who was again a force at Catcher. The Is Its actually complained at one point because they had not other recourse but to complain. Hustle was all over the place as well as "Crockett" Whalen, using the power of his off-white jacket, scored from first like a cigarette boat chasing down cocaine smugglers. Special mention to Cas "Side Pony" Scott who literally ran like a Flock of Seagulls from the Addison L stop to the field in time to make the game, proving that Girls really do just wanna have fun. Now that defines the spirit of the Wranglers! Add it up, and you get a 13-3 whooping that would've made our fearless Captain T-Dizzy proud!
Now onto this week's awards…
This week's Rusty winner, or should I say winners, has got to, and I mean gotta!, go to the Wrangler's version of Guns-N-Roses - Josh "Slash" McKnight and Matthew "Axl Rose" Lubbers. Slash and Axl snaked their way to a Monsters of Rock-type night. They were responsible for so much scoring that even Jon Bon Jovi would be jealous, and their stat lines are even more impressive than Tommy Lee's spinning drum kit in the Wild Side video: Axl: 3-3, 1 Triple, 2 HR's, 5 RBI, 2 R. Slash: 3-3, 2 HR's, 2 RBI, 3 R. Certainly their finest work since Appetite for Destruction. Special note: In the process, Lubbers set a team record for total bases in a game with 11, topping the previous high of 9 (Dr. Mark "Not that kind of Doctor" Frasier, 2004). McSlash tied the old record with 9 bases on the night.
For probably the first time in team history, the All-Around Cowboy/Cowgirl hustle award and the boobie-bungler award happened on the same play. Playing in LCF, Hootie McBoob, excuse me, Katie Whalen, who had already made a fine catch of a deeply hit ball, went to play yet another deeply hit ball. She moved over and got into perfect position and exclaimed "Hit me with your best shot, Fire away!" Hit her it did. It turns out that Wheels was in perfect position to use her, umm "wonder twins" to deflect the ball skyward, thus allowing rookie Claire "Quiet Riot" Moroney to make a spectacular catch, thus earning the All-Around Cowgirl. It was literally a boobie bungler at its finest. Claire went on to have a great debut as well.
The Blue Jumpsuit award will be announced shortly by Chairman "Slash" McKnight…and not to give anything away, but it was a quite a busy night for the committee. Not sure on the Boss Hog front, but that's not my department…ladies?
Right now I'll send it over to correspondent Joy Hayes with a preview of her special report due out later today. Joy, take it away!
Okay, Wranglers....the theme of this story is "Someone's going to Heaven; her name rhymes with Schmatie Schmalen".
Maybe I'm rude, maybe I'm judgmental, but when Captain Tallsocks (also to be called Maverick in this story...but not in a positive way) sat down in the Wrangler Corral last night, I almost lost my mind.
I dislike haters....and Captain Tallsocks is the mayor of Hater City. I have to give props to Dooley who, after hearing him shout down the length of the table, inquired "Wait...can we drink before games?"
Now of course, he was focusing all his energy on the end of the corral where the lovely Cassie, Dana, and Katie were sitting, so all of these highlights were overheard, and in the light of day, may be misconstrued for the humor of the story. Deal with it or scroll down....
There was the textbook opening conversation about our fantastic theme nights (still reveling in the Birthday Party concept), which again, I say hate on, hater.
The gauntlet was quasi-thrown when I heard "Who was that jackass with the horse around him?"
And with that, I'll leave the rest of the story for later today…(I still need to finish writing it, so back off!)
Thanks Joy! I for one cannot wait to read the rest of that story!
Well, that should do it for this week in WranglerNation. Next week we've got James Brown for another 6:30 game on field B. The theme has not been officially decided, but I believe we'll be getting back to our Roman heritage.
Props to Cas for getting the picture out! We look good…I mean really good. Everybody come see how good we look!!!!
See you next week! Thanks for dropping by San Diego…errr Chicago.
- Tdubs
Finally, a Blue Jumpsuit Award
Well, let's just say I'd welcome this week's Blue Jumpsuit recipient to my Jungle any day of the week! Honestly, this was a rare night for the BJ committee, as it was a unanimous decision before the first pitch was even rolled. Behind the plate stood the most rare WAKA specimen the BJ Committee's ever seen. Much like Jenny Finch on the Softball Field, she was a giant amongst midgets and a rarity to Kickball Nation. Thus, to pay homage, I crown the "It's" catcher (Lita?) the inaugural recipient of the Jenny Finch Award. (Note: I'm avoiding the obvious "Is it In You" Joke here, and man is it ever tempting)
And of course, in true tradition, there must be a Blue Jumpsuit award which goes to second base/relief pitcher short Indian girl. This cutie is surely a lock for the BJ award any other week but unfortunately a second fiddle to Lovely Lita.
Josh McKnight, BJ Award Committee Founder and President
Wednesday, May 11, 2005
Raindrops keep fallin on my head
The games this week were rained out. boo hoo! 80s Rock Star Night will have to wait.

But I didn't want the Wrangler fans to feel sad for not receiving their weekly update from the team, so here is a little hello from your favorite cowboys and girls:

HEE-HAW HELLO, WRANGLER FANS!

Next week is a bye week, which will be even more sad, because no one likes 2 weeks away from their favorite friends! But it will only make our reunion that much sweeter. (Although I will actually be out of town when we return to the fields on May 25. That's triple sad. But let's not dwell on that.) And actually, we'll see each other this Saturday night at Durkin's! Don't miss it because you've already paid for it. Part of our league fees go to throwing these parties, so you might as well drink what you've already paid for. Plus, $3 of everyone's admission goes to Children's Memorial Hospital.

REMINDER:
Saturday night is the party at Durkin's, all you care to drink 8pm-11pm.
Just $10 for Wranglers and $17 for their friends.

I told Dave that for 10 bucks, even I might get liquored. So you won't want to miss what has become (unofficially) a tri-annual, sometimes pent-annual, event: T-DIX GETS DRUNK. It's quite a sight if you've never witnessed it in the past. I get very chatty and silly. Sometimes I even speak Spanish. And sometimes I even sing church songs. Cheerleader high kicks are a must, as are good old-fashioned ass-slappings. If you are extremely averse to bruised buttocks, I suggest you employ some sort of butt padding, like perhaps bicycle shorts or even wads of Charmin toilet paper like that little kid in the commercial who knows he's about to get spanked. I CAN'T WAIT!

And then at 11pm we'll blow that popsicle stand, and the WAKA band camp convention, and go somewhere else (Hidden Shamrock?) This will be a game-time decision.

I wish all of our out-of-town Wrangler supporters could be there to have fun with us. Maybe someday we'll have a big reunion. Or I guess it would actually be just a "union" on account of lots of people never having met before. OK, that's all!

love you!
The Cap'n

Thursday, May 05, 2005
Week 4: Chef Night!!
Week 4 Recap
Wranglers:

I miss you already! You know, I can't smile without you. I can't laugh, and I can't sing. I'm finding it hard to do anything.

Oh, Wranglers: Well you came and gave without taking, and I need you today, oh, Wranglers!

It really is sad to come to work on Thursdays, knowing I've got a whole week to wait until the next Wrangler Wreunion, not having a theme for my work day that includes a silly costume and even sillier motivational phrases that match the theme that I can shout at my co-workers (i.e. Mount Up!). I just can't be myself unless I'm with you cats. Next Wednesday can't come too soon. But let's not think of the sad things, let's remember the happy times!! Here we go....

Well, Chef Night was a big hit with players and fans alike. We had quite a crowd gathered around by the end there, and many of those gathered had great words of support and encouragement for us, as well as compliments on another highly successful theme night. Several even said we were "the best." Now, I'm the first one to admit that their standards of "the best" are likely low, but nevertheless, it is nice to be recognized by the league as superior to the rest of the hosers we play against.

Although this one ended in a tie (3-3), we were clearly the better team, as they scored two of their runs on a series of ridiculous overthrows that had the ball flying all over Sam Hill and Tarnation, and had this captain paralyzed with irritable scowl syndrome! Let's get that ball to the pitcher, people!! And, of course, we don't need to rehash (although I'm about to) the very controversial ending of the game on account of the "No Backsies" call by the ump. No Backsies??!! WTF?! Now I know that kickball is technically a "playground" game, but this was taking it a bit far. I, for one, was immediately transported back to traumatic grade school experiences during recess like the time I fell off the jungle jim platform, slipping underneath the monkey bars and crashing onto the icy pavement below. I broke my glasses clear in half, but Mr. Huntley (the principal) fixed them with masking tape. It really is true about the last 3 letters of principal spelling "PAL." He also had jelly beans in his office. But also there was this one time on the playground (although not during school hours) that Oscar Guittierez bit my brother on the back and left these big hideous teeth marks in his back! It's true. It was very disturbing. But not as disturbing as hearing the words "No Backsies" to end the game we were THIS CLOSE to winning last night.

Well, a lesson learned: If you take an extra base on an overthrow, you are only allowed that one base, and if you run beyond it and are tagged, you are out. Even if you have made it "safely" to the next base, you are not safe! You are only safe on the ONE base you were allowed to advance to! In other words, if they overthrow trying to get you out, only take one base. It seems real dumb, but I guess we'll have to comply.

So, anyway, chalk it up to a tie against Feets of Fury. (More like Feets of Poo, if you ask me, though.)

Whoa, I've just gotten word that we've got Tim "The Whalebone" Whalen live via satellite from the Wranglers' Home Office on Roscoe Street. What's the word, Timmy?

-----
Well, T-Diz, here's the lowdown for the week: There's no question the "Rusty" has got to go to a Wrangler known simply as "The Mullet." In a few short games, he's already made a big name for himself all across WAKA and the greater Chicago area (rumors have him taking over for Mr. Six as the lead in all Great America commercials). The Mullet, aka Ryan Swett, BBQ'ed up a 2 for 2 night at the plate with a single and a double that drove in the game-tying run.

Plus, he invented a whole new concept in sports -- The Rally Noodle! And he cooked them himself! Rather than go with traditional spaghetti, Swett bucked the trend and used lasagna noodles because, quote: "They're stronger. You get a better wave out of them." SS Matt "Slippery Fingers" Lubbers described the invention as "tasty" while RF Cassie "Yahtzee!" Scott had this to say: "When I was on first in the 5th inning, and the entire team was waving rally noodles along the sideline, well, I almost lost it. I'm getting a tear in my eye just thinking about it." Well said Cas, well said.

Speaking of Lady Scott, she takes home the "All-Around Cowboy" award this week for her fleet feet on the base paths. Cas sautéed up a much needed single in the crucial 5th with some olive oil and paprika, and then managed to score the game-tying run from first base on The Mullet's double. She must've had some crisco on her shoes, 'cause she was greasy-fast on that play.

Other highlights: Michelle "Betty Crocker" Dooley's big single: "She did it for the muffins!" Not to mention the stellar catch at 2nd base prefaced with shouts of "I can catch it! I can catch it!" with her arms stretched up to the sky. She also gets a shout-out for her fabulous costuming, complete with prize check for the Pilsbury Bake-Off Contest and a whole tray of blueberry muffins. And the muffins! My God, the muffins!

All in all, a hot night in the kitchen for the Wranglers. We were really cooking with gas!!

Back to you in the studio, T-Dizzle.
----

Thanks, Tim, that was a delicious summary. You made my mouth water with excitement.

Now for some additional awards: We actually have several Booby Bungler Awards for last night.

On Chef Night there was comedy to spare as Matthew "I'm so laid back I won't even try to catch the ball" Lubbers dropped a couple in the infield. I mean, I know it was a cooking theme, but the Swedish Chef impression would have been more appropriate for the sidelines. Fortunately, for one of those bobbles Dave "Beeker" Osborne was right behind Lub-a-Dub to pick up the slack, but UNfotunately he followed it up with a cream pie zinger right in the face of that chick who was running to third. Did anyone notice how she cried out all Scarlet O'Hara style? Do you think it really hurt or was she just being Gone With The Wind?

Big Bungle props go out as well to the Whalebone for the first-ever attempt at a "crotch bunt." When I shouted from the sidelines: "Do it like your wife!" I really just meant to bunt it, because, you know, Katie is the Bunt Cake... Everyone knows that! But Tim took the double-entendre to heart and actually used his crotch to bunt! It was revolutionary!! I think it went foul, but the effort will not be forgotten. (by the way, how's your hot dog?)

Actually, all this talk of bungles reminds me that I forgot to highlight last week's BB Award that should have been given to Rick "I take it in the kisser" Brands for getting canned right in the mouth by that girl's foul ball. That'll teach you stay alert behind home plate! But this week at catcher, Rick "Will Cook for Sex" Brands redeemed himself when he one-handed a seemingly in-slow-motion blooper just beyond home plate. I don't think that girl even realized she was out. BUT SHE WAS!!!! Rick, you put that hoochie on the grill and burned her ass up!

Well, that's about it for today, kids. I've spent almost the entire day fiddling with the Rusty's blog and writing this email, so it's time to do some actual work.

If anyone has any Boss Hog or Blue Jumpsuit candidate sightings from last night, let me know. I was too distracted by my cutie in his Billy Goat cap and oven mitts.

Next week is 80's Rock Star Night! The game is at 6:30 again....nice!

I love you, babies!!

And remember, Stay Classy!

Your devoted captain, Tara Dix