Tuesday, July 26, 2005
World Champ Recap: Wranglers Take the Capital
[voice over]: "We have some special guests on the plane today!! American Airlines would like to welcome Rusty's Wranglers Kickball Team, on their way to the World Championships of Kickball in Washington, D.C."
And let's roll the highlight tape…
Friday night:
Dave "The O.Z." and I arrived at Chicago's O'Hare airport with plenty of time to spare. Luckily, Katie called American ahead of time to make sure it was cool to travel with cap guns. "As long as they remain in your checked luggage." Will do!!
Still about a mile down the hallway from Gate K3, we spied spots of orange up ahead. Could it be? It is!! The lovable, huggable, Wranglers: All lined up in a row and wearing cowboy hats and the same orange T-shirt. It was a sight for sore eyes!
We quickly made our way to the food court, where it seemed like somebody should have told all those people that they should take a picture because it would last longer. We scored some burritos and Dave "The Man with the Sombrero" Osborne heard some random (and not very diversity-sensitive) lady mutter, "There sure are a lot of Mexicans in here." It pleased us greatly to hear it, as everyone knows that Dave is actually part Chinese, not Mexican, and that lady was totally tricked by his Mexican hat.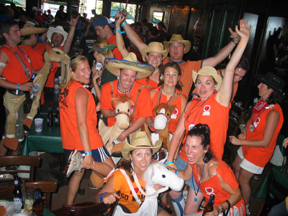 But I digress. Let's skip to the airplane. Timmy bought Star Magazine (Are Nick and Jessica headed for a breakdown?!) and we were set to go. We sweet-talked our way into a whole bunch of seats together in the back, and lo and behold the woman in front of us had just started thumbing through the Tempo section of the Chicago Tribune with a big fat picture of Wheels (and horsy) en route to 1st base. We couldn't stop giggling. Finally, Dooley asked her: "Wouldn't it be so weird if the girl in that picture was sitting right behind you?"
Lady (who only 5 minutes before had been bitching out her corporate underlings via cell phone…scary broad!): "Heh, I thought that might be you guys." She humored us for a minute or two and then turned back to her self-centered, unimportant life. But the dudes sitting next to her were excited, and the one on the end kept asking Cassie questions about our climb to stardom and local celebrity. I think maybe he wanted to climb HER stardom, if you know what I mean!
We worked our star-power full throttle only moments later when the lovely flight attendant said her little welcome message spiel and gave a SHOUT OUT TO THE WRANGLERS! American Airlines LOVES the Wranglers.
So, we landed in our nation's capital—Ronald Reagan National Airport to be exact, which reminds me that you may be interested to know that I was absolutely IN LOVE with Ronnie as a small child. Believe it! We shared a common love for jellybeans and I had his picture on my wall. But. Look I've done it again: gone totally off the subject. Do you see how it is to have A.D.D.? Back to the story:
We deplaned and set off for the Metro to our respective host's homes. (Shout out to our hosts! Thanks, guys!) Guess what color the seats on the D.C. Metro are?? ORANGE!! Yes, it seemed that everything was coming up Wrangler. The Karma Police was on our side, which, come to think of it, should not have been such a surprise given that all sorts of other police had had such affection for us in previous ventures.
Anyway, the evening's destination was the Mad Hatter in the popular DuPont Circle neighborhood of D.C. It should be noted that Cap'n T-Dizzy once resided not so very far from there at 1725 Massachusetts Ave while interning for Senator Dick Durbin. (Seven years later I would be accused of spending that summer in the loving embrace of John Kerry, but that's a whole 'nother can of worms.) So we hit the Hatter in our orange shirts, and guess what----the Mad Hatter LOVES the Wranglers.
There were all sorts of D.C. members of Wrangler Nation that many of us met for the first time (What up, McB? What up, Beard-Weiser?), and it wasn't long before patrons large and small were chanting, "Let's go, Wranglers! Let's Go!! [Clap! Clap!]" They may or may not have come to the bar with us, but that's neither here nor there. Even people who were not there as official members of Wrangler Nation were cheering. Cassie "Did You Know We're Regional Champs?" Scott was scoring free drinks in exchange for Wrangler Trading Cards, Joy was relentlessly pursued by an amorous reveler, and drunk people everywhere found themselves babbling incoherently "Mount up, Wranglers. Mount up."
It was hotter than a hoo-ha in that bar, and we wondered aloud why the city of D.C. seemed to be so anti-air-conditioning, but eventually chalked up the steamy conditions to be excellent practice for the next day's temperatures that would surely soar close to the big Hundo. And you couldn't stop our Wrangler feet from dancin'. Long-time Wrangler-lover Eric "the Beast" McBride, showed off his patented "lean" move and women swooned. I'm not sure when we got home exactly, but I remember feeling sad that it would not be very long until we were supposed to wake up. Tomorrow would be the biggest day of our lives: The World Championships of Kickball.
Saturday:
We awoke the next morning to a hot summer day. The sea was angry that day. And apparently there was some kind of wacky power outage in the area that prevented us from obtaining a delicious bagel breakfast at Einstein's. There was no time to execute Plan B—we were supposed to be down on the National Mall by 9:30—so we hopped on the Metro with little in our stomachs beside a few nibbles of some of the orange-colored snacks we had bought the night before. (Cheetos, Cheddar & Sour Cream Potato Chips, Goldfish, etc.) Our new plan was to find something to eat once we got to the Mall, and luckily there was a lovely McDonald's right when we got off the train. But by then I was too nervous to eat. Joy and Dools made friends with the teenager working the register and slipped him some limited edition trading cards. McDonald's LOVES the Wranglers!!
We finally got to the proper field of play after some sort of hoopty-hoo mix-up about new sod on the field we were supposed to be on. Fortunately, there was a gaggle of bicycle cops on the sidewalk who took a liking to the Lady Wranglers, but were desperately unhelpful as far as directions on how to find the rest of the kickballers. Again, trading cards were passed out and the po-po asked where the ladies were headed after the tourney in a bizarre reversal of "Where's the Party, Occifer?" cause the Occifer was all "Hey, where's the party, ladies?"
Anyway, I don't think they were very good police officers because they never showed up at the party and that does not seem like a very good effort to serve and protect.
And here's where the story starts getting good. We show up to the fields where all the other teams are congregating, etc. Some of them were having little team pow-wow's, all huddled in a circle talking strategy. One team was actually engaged in a group warm-up activity that was reminiscent of high school soccer: jogging in a line, high knees, grapevines, kick the butt. They were even jumping for headers, or similar.
Well, we had to check in with our very official government issued photo i.d.'s so we could be certified and bona fide and get our little wristbands to prove it. I almost had to get smacky-hoo-ha with the chick that was checking us in, though, because she was very strict about the "wristband must be on the right wrist" rule even though I strongly opposed for religious reasons. (Just kidding, really I just hate those wristbands and how they go scratchy-scratchy on your skin and I wanted it on the left side where it would cause the least trouble.) But, of course, this is WAKA, and they are very serious about their kickball.
We suited up rodeo style, strapped on our cap guns and horses, cowboy hats and boots, and we were ready to kick some Off In Public ass.
According to the scouting report we had received via email in days prior, our opponents, Off In Public (pronounced Off In Poo-Blic) were supposed to be total jerks (A charge one of their mothers would later dispute). Other kickballers in D.C. said they played cheap and dirty and all they cared about was winning. Supposedly they would drop infield flies on purpose, use pinch runners ad nauseum, and crap like that. Their pitcher was supposed to be the best, although apparently not the "best around" as something did eventually keep him down.
Anyway, most of those things turned out not to be true and they were actually quite congenial folks and seemed to genuinely appreciate our rodeo get-ups. The pitcher was, indeed, quite skilled and he sure did throw it fast and spinny. They employed the bunt-bunt-sac fly strategy to great success against our fun-loving competitor style. But to be honest, it wasn't that much fun to play against them because they bunted 80 percent of the time, which was difficult to defend against, and, in general, not very exciting. We put up a good fight, though, and best of all we attracted quite a following from the Boy Scouts of America, who swung our Rally Noodles like I have never seen before and daresay I shall never see again.
The quarterfinal ended in a 7-1 defeat for the Wranglers and decent people everywhere. When I called my dad after the game, he reminded me that second place is first loser, but I found comfort in the fact that we actually ended up in seventh or eighth place overall -- and seventh loser somehow seemed better than first loser in a double-negative-makes-it-a-positive kind of way.
I will also rest easy knowing that I remain undefeated in the pre-game Rock-Paper-Scissors showdown to determine home field advantage. But back to the boy scouts….Boy scouts LOVE the Wranglers! There were loads of them on the sidelines cheering for us and Joy even bought one of them a Wrangler Nation T. Even better, these were not your average "Atomic Fission Merit Badge" boy scouts. These were the COOL boy scouts. I've written a letter to BSA headquarters requesting that they institute a Wrangler Nation merit badge for best cheering section ever on the planet. Have not heard back yet.
After witnessing part of the semifinals and finals, which were hyper-intense including a captain shouting at his team "Everybody take a knee!", we came to the conclusion that the kickball gods must be crazy and departed forthwith for Kelly's Irish Times for the after party. (Actually, Dooley and I stayed behind for a bit to kick it live at the concession stand for some Rocket Pops! We met more boy scouts there, who, although lovely children, were the not-so-cool kind of boy scout as evidenced by the fact that one of them informed me he had indeed earned the Atomic Fission Merit Badge, but unfortunately could not show it to me because he had not brought his "badge sash" out for sightseeing that day.)
The kickball bash was super fun and the DJ played all the Wranglers' favorites! We danced and sang and played flippy cup and ate food. And Sweaty Rodeo Clown even won one of the raffle prizes!! Tickets to OZ Fest the next day in D.C., totally useless prize as is, but when sold to the highest bidder raked in some cash for pizza later on! Yippppeeeee! Thanks, Swett!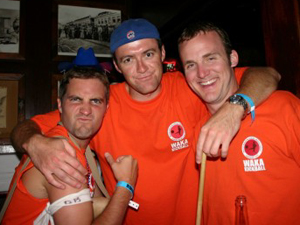 Which brings us to the pool party on a fancy rooftop with an incredible view of the D.C. skyline and monuments. A member of the team Crazy Kickers lived there and was nice enough to invite us over for a swim. You kind of have to wonder about someone who invites 15 of the biggest nuts at the bar to a fancy rooftop pool… but I think we behaved ourselves relatively well despite the cheesy photo shoot that was happening just yards from us that was SO tempting to jump in on. We got a keg and ordered some pizza (Yeah, Domino's!!) and took a dip in the swanky pool. It was lovely…
Until, for reasons unbeknownst to me, Mark "Tootie" Frasier started taunting the Capitol building: "Oh, look at me! I'm the Capitol Building! I'm so big! I'm so tall!" And the next thing I knew people were doing keg stands! And the amorous bikini girl was trying to get the dirt on Swett from Lady Wranglers. "Does he like keg stands?" she asked. "I don't F-ing know, girl!" Timmy Dubs was earning a reputation for being a sissy with a pitiful 7-second stand, and the coveted Silver Pitcher was suggested for use in a game of Sink the Biz. Things were getting crazy.
Now, Dave and I went home earlier than the rest, but from what I hear, that moon was hitting some Wranglers in the eye like a big pizza pie and you know what that means: Amore!! Apparently, the fancy rooftop may as well have been called the Love Rooftop the way people were sucking face all over the place. There was a lot of inter-city romance from what I hear. And bikini girl got what she was longing for: 7 seconds in heaven with a rodeo clown. Nice job, Swett. And big props to the other Wrangler maker-outers that will remain nameless. (Sadly, I did not make out, and back at Amy's place my husband-to-be snored on the couch while I wrote the official epilogue for the Tribune. Is this what married life has in store??? Wake up, Dave!!!)
Well, that's OK because I got to live vicariously through the single Wranglers who came home at approximately 3:30a.m. with all the fantastic stories of tonsil hockey disguised as "going to get tacos," and all the details of the cab ride home where Lubbers apparently "suddenly" became a pervert. And then everybody crashed hard-core after a long day in the hot sun.
Sunday:
Things were winding down and some friends already had to say goodbye to catch early flights, etc. But a good chunk of us moseyed out to RFK stadium to catch a little Nationals vs. the Astros game. Yippppeeee! So fun!
But then it was time to go to the airport and that was not fun. Boo-hoo. Hard to believe our glorious season was actually coming to an end. It was a Wild Wride. Unforgettable. We'll never be the same. Thanks for the memories.
And thanks for flying American Airlines, the official airline of Rusty's Wranglers.
-------------
Don't forget: The Wrangler Prom is coming up on August 12th!
And we're looking at starting a new season in September….so keep those kicking legs in shape!
MOUNT UP!!!