Friday, May 25, 2007
You can now keep up with Rusty and the gang on our website:
http://www.RustysWranglers.com

Tuesday, March 07, 2006
Spring Season Starts April 3rd
The Wranglers are back! First game is Monday April 3rd at Brands Park, Chicago. What will the theme of the week be? You'll just have to lie awake at night wondering.

Monday, October 31, 2005
Off-season workout program
I know it's really sad when the kickball season is over, but it's very important to keep a strict off-season training regimen if we want to go to the World Championships again next year. This fall and winter, the Wranglers are participating in an intense fitness program of at least 50 jumping jacks per day.
For motivation, click here
Saturday, August 13, 2005
Wrangler Prom/Awards Banquet Recap
Well, as expected, the party was a big hit! The Wranglers mounted up in full prom regalia. I didn't know that orange tuxedoes actually existed, but we've got pictures to prove it.
Thanks to the smooth DJ mixes of Joy "DJ Smack" Hayes, puppy love was in the air as we reminisced about our high school prom dates...taking us back to those days of (moderate) innocence and subconsciously transferring those emotions to the current day, resulting in a lot of butt-grabbing and french kissing. Luckily, Principal Whalen was there to keep things somewhat tame.
Until the cops showed up! That's right, it seems that wherever the Wranglers go, the Po-Po are not far behind. But, as usual, the po-po quickly fell to the charms of the Wranglers (and in this case, the female cop seemed to REALLY fall for our host-with-the-most, Playboy Kevin Wheeler). When Kev came out of the house to talk to the coppers in his suit sans shirt and tussled hair, I'm afraid it was only a matter of seconds before she was putty in his hands and the police officers were leaving with a "Thanks, Mr. Wheeler!"
So, without furhter ado.....the awards!!
The Rustys
2nd Annual Award Ceremony for Outstanding Achievements in Kickball
August 12, 2005
Best Costume - Single game:
Michelle "Is that panty hose on your head?" Dooley's breakdancer complete with a cardboard
Swetty Rodeo Clown
• Honorable mentions: Tone the Bone's "Blow Me" Kleenex box, Tim "Sonny Crockett" Whalen, Dooley's Birthday Girl, Swett on Chef Night w/ Rally Noodles
Costume that most interfered with quality of play:
Katie "Cowgirl Buntcake" Whalen and her trusty steed
Costume that should have interfered, but luckily did not on account of heads-up play:
Courtney "A fake pregnancy is no obstacle" Reid
Ugliest costumes:
Matthew "Sad Clown" Lubbers for the clown suit and the really tight jean shorts
• Honorable mention: Pregnant Dave
Most politically incorrect costume:
Dan "The Impregnator" Martin
Costume most likely to inspire politically incorrect comments from onlookers:
Dirty Dave "There sure are a lot of Mexicans in here!" Sanchez
Biggest booby bungler:
Katie "Hootie McBoob" Whalen and the off-the-jumblies pop-up into Claire's waiting arms
Biggest perv:
Matthew "Oh, so now I'm the pervert?" Lubbers
Most money play (Best defensive play – single event): Tie!
Rick "Will Cook for Sex" Brands double play from the catcher spot
Tara "I always hated James Brown" Dix's toga-clad diving catch to seal the tie against our nemesis
Best boot (best kick - single event):
Ryan "I refuse to be walked" Swett's intentional-walk-turned-home-run, which would set off a chain of events that will live in WAKA memory for ages: Cap'n T-Dizzy going head-to-head in a verbal exchange with the 3rd baseman, Dulci breaking loose and going ape-shizzle all over the ball and several of their fielders
• Honorable mentions: Lubbers home run and head-first slide in the first round of the playoffs, and Swetty's RBI zinger to end the regional championship game
Best theme song:
Black Betty (nice choice, Swett)
Best nickname: Tie!
Michelle "The Michelle is Silent" Dooley
Cassie "Did You Know We're Regional Champs?" Scott
Biggest skank: 3-way tie!
Kathleen "Ooops! I did it again and now I'm pregnant!" Simmons
Joy "Tongue" Hayes: For her hot pursuit of Captain Tallsocks and her 11th hour make-out with Lubbers
Dooley: For flirting with a girl as a defensive tactic while playing catcher
The Rick "Wild Thing" Vaughan Award for intimidating pitching:
Dan "Ricky" Martin, no explanation needed
Best Athletic Supporter:
Layla, Heather, and Brandi—all of whom traveled the country to support the Wranglers
Best show of open hostility toward other WAKA'ers:
TDiz - season achievement
Joy "Smack Yo Mama" Hayes for giving the stink eye at the bar and general orneriness
• Honorable mention: Dulci
Biggest twat (someone from another team):
Amber "Excuse me, could you not be such a twat?" James Brown girl
• Honorable mentions (there were so many to choose from!)
The "coach" of the KC team, No Backsies, Bicep Bouncer 3rd baseman on the f-tators team, Tight Sweatpants guy from game 1, Captain Tallsocks
Best Dance Move:
Eric "The Lean" McBride, the Most Dedicated Member of Wrangler Nation and also "Most likely to go for tacos with a Wrangler"
F.B.I. (Female Bikini Inspector) Award:
Ryan "Does He Like Keg Stands?" Swett
The Clear Blue Easy Award for creative costuming:
Penny "Positive" Straub
Most Dedicated Costumer: Barb Martin, who repeatedly wore her costumes in public (such as the L, etc.) most notably during Toga Night
Best late-season add ins:
Brad "Ryno" Simmons, aka Ryan "B-Rad" McLean
Robin "You're dead in the water without me" Behre
The Billy Crystal Best Host Award:
Kevin "Wait til ya see the pool" Wheeler
Most likely to B'Dazzle something...anything: Dooley
The "Jazzy Jeff" DJ Award: Joy "I'm the DJ and the rapper?" Hayes
The Bill and Melinda Gates Foundation Award for Philanthropy:
Dana "Hey, kid, do you want some candy?" Duman at Wranglers Give Back to the Community night
The Prestigious Award for Outstanding Acheivement in Counry Bumpkin Games like "Pens" that was really supposed to be "Spoons" but we didn't have any spoons:
Eileen "I am from New York and I hate this f-ing country bumpkin game" Lovett
Most Likely to Date a Motorcycle Cop: Cassie "Could you just drive me to my R.V.?" Scott
Best Midnight Cowboy Dive: Tim "YEEEEE-HAWWWW!" Whalen
The "My Boys Can Swim like Michael Phelps" Award:
Brad "Big Daddy" Simmons
Most Likely to Get Pulled Over While Driving an RV:
Tim "How fast was I going, Officer?" Whalen
Most likely to get on a jumbotron: Sparkle-Pants Dooley
"MVP - Most Valuable Passport" Award: Rick Brands (both Swett and Mark used this thing!)
Best Flipcupper: Mark "I'm not that kind of Doctor" Frasier
Worst Flipcupper: The Clown
Most realistic pregnant belly: Why Duff of course! (Hon. Mention to Dooley for "Hooters Mom")
Best Comically-Big Hands: Mark "Tootie" Frasier
Worst Keg Stand: Tim "The Grand-Gina" Whalen
Silent Assassin (Someone the other team never saw coming):
Joy "I'll show you the 3rd out" Hayes
Most likely to listen to the "at work network" while at work: Tone the Bone
Most likely to crap their pants: Tim Whalen
Most likely to be buried in a WAKA coffin: T. Dix
Most likely to wear pink pants: Josh McKnight
Most likely to sing in the shower: Dave Osborne
Best Potential Corporate Sponsors for next season: Boy Scouts of America, American Airlines, or Culver's (they already carry the kickballs)
Most Likely to get a cavity search (and I don't mean her teeth) from airport security:
Katie "You mean I can't carry on 6 metal cap guns?" Whalen
The Darryl Strawberry Award for Outstanding Play While Hammered:
Dave "Go Cubs!" Osborne (for pitching a scoreless inning) and his pal Alex who kicked it really hard but lost his shoe
Most likely to say "Freakish" 100 times in the next minute:
Joy "Let's Call a Spade a Spade" Hayes
Life-time (season-long) achievement awards:
Mr. & Mrs. Costume (Best Costumes - Season achievement award):
Michelle "I make costumes like it's my job" Dooley &
Ryan "Dirty sweaty mullet man" Swett
All-Around Cowboy (Charlie Hustle): 3-way tie!!
Josh "Hasselhoff" McKnightrider - bad leg and all, pegging guys on foul balls
Tony "150 pounds of adrenaline" Wagner
Ryan "The mullet makes me run faster" Swett
All-Around Cowgirls (Charlene Hustle):
Tara "I can't think of a good nickname for myself" Dix &
Cassie "Did you know I'm #1 in hits?" Scott
MVP- Offense:
Matthew "I'm a Lubber not a Fighter" Lubbers
MVP- Defense: Tie!
Rick "Catcher" Brands & Dan "Pitcher" Martin
The Rusty (MVP): The whole Gosh-Darn Team!!!!!
Then we crowned the Prom King & Queen:
Ryan Swett & Michelle Dooley
There was not a dry eye in the house when they danced that first dance to Total Eclipse of the Heart. I know that my heart was totally eclipsed. Was yours?
Wednesday, August 10, 2005
Have you bought your dress yet?
Wrangler Prom is coming up this Friday night!
Can't wait for the red carpet show!
Do you think Brad will show up with Angelina?
Will Swett fly in the bikini-clad wonder from D.C.?
Will certain other D.C. ballers go out for tacos with a certain Lady Wrangler again????
Who will win the Charlie Hustle Award?
THE SUSPENSE IS KILLING ME!!!
Look here for a full report on Saturday.
As for me, I'll be sporting a Bill Levkoff creation on the outside with these little numbers underneath!! YEEEEE-HAWWWWWWWWW!
Tuesday, July 26, 2005
World Champ Recap: Wranglers Take the Capital
[voice over]: "We have some special guests on the plane today!! American Airlines would like to welcome Rusty's Wranglers Kickball Team, on their way to the World Championships of Kickball in Washington, D.C."
And let's roll the highlight tape…
Friday night:
Dave "The O.Z." and I arrived at Chicago's O'Hare airport with plenty of time to spare. Luckily, Katie called American ahead of time to make sure it was cool to travel with cap guns. "As long as they remain in your checked luggage." Will do!!
Still about a mile down the hallway from Gate K3, we spied spots of orange up ahead. Could it be? It is!! The lovable, huggable, Wranglers: All lined up in a row and wearing cowboy hats and the same orange T-shirt. It was a sight for sore eyes!
We quickly made our way to the food court, where it seemed like somebody should have told all those people that they should take a picture because it would last longer. We scored some burritos and Dave "The Man with the Sombrero" Osborne heard some random (and not very diversity-sensitive) lady mutter, "There sure are a lot of Mexicans in here." It pleased us greatly to hear it, as everyone knows that Dave is actually part Chinese, not Mexican, and that lady was totally tricked by his Mexican hat.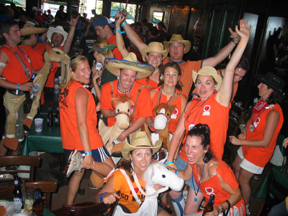 But I digress. Let's skip to the airplane. Timmy bought Star Magazine (Are Nick and Jessica headed for a breakdown?!) and we were set to go. We sweet-talked our way into a whole bunch of seats together in the back, and lo and behold the woman in front of us had just started thumbing through the Tempo section of the Chicago Tribune with a big fat picture of Wheels (and horsy) en route to 1st base. We couldn't stop giggling. Finally, Dooley asked her: "Wouldn't it be so weird if the girl in that picture was sitting right behind you?"
Lady (who only 5 minutes before had been bitching out her corporate underlings via cell phone…scary broad!): "Heh, I thought that might be you guys." She humored us for a minute or two and then turned back to her self-centered, unimportant life. But the dudes sitting next to her were excited, and the one on the end kept asking Cassie questions about our climb to stardom and local celebrity. I think maybe he wanted to climb HER stardom, if you know what I mean!
We worked our star-power full throttle only moments later when the lovely flight attendant said her little welcome message spiel and gave a SHOUT OUT TO THE WRANGLERS! American Airlines LOVES the Wranglers.
So, we landed in our nation's capital—Ronald Reagan National Airport to be exact, which reminds me that you may be interested to know that I was absolutely IN LOVE with Ronnie as a small child. Believe it! We shared a common love for jellybeans and I had his picture on my wall. But. Look I've done it again: gone totally off the subject. Do you see how it is to have A.D.D.? Back to the story:
We deplaned and set off for the Metro to our respective host's homes. (Shout out to our hosts! Thanks, guys!) Guess what color the seats on the D.C. Metro are?? ORANGE!! Yes, it seemed that everything was coming up Wrangler. The Karma Police was on our side, which, come to think of it, should not have been such a surprise given that all sorts of other police had had such affection for us in previous ventures.
Anyway, the evening's destination was the Mad Hatter in the popular DuPont Circle neighborhood of D.C. It should be noted that Cap'n T-Dizzy once resided not so very far from there at 1725 Massachusetts Ave while interning for Senator Dick Durbin. (Seven years later I would be accused of spending that summer in the loving embrace of John Kerry, but that's a whole 'nother can of worms.) So we hit the Hatter in our orange shirts, and guess what----the Mad Hatter LOVES the Wranglers.
There were all sorts of D.C. members of Wrangler Nation that many of us met for the first time (What up, McB? What up, Beard-Weiser?), and it wasn't long before patrons large and small were chanting, "Let's go, Wranglers! Let's Go!! [Clap! Clap!]" They may or may not have come to the bar with us, but that's neither here nor there. Even people who were not there as official members of Wrangler Nation were cheering. Cassie "Did You Know We're Regional Champs?" Scott was scoring free drinks in exchange for Wrangler Trading Cards, Joy was relentlessly pursued by an amorous reveler, and drunk people everywhere found themselves babbling incoherently "Mount up, Wranglers. Mount up."
It was hotter than a hoo-ha in that bar, and we wondered aloud why the city of D.C. seemed to be so anti-air-conditioning, but eventually chalked up the steamy conditions to be excellent practice for the next day's temperatures that would surely soar close to the big Hundo. And you couldn't stop our Wrangler feet from dancin'. Long-time Wrangler-lover Eric "the Beast" McBride, showed off his patented "lean" move and women swooned. I'm not sure when we got home exactly, but I remember feeling sad that it would not be very long until we were supposed to wake up. Tomorrow would be the biggest day of our lives: The World Championships of Kickball.
Saturday:
We awoke the next morning to a hot summer day. The sea was angry that day. And apparently there was some kind of wacky power outage in the area that prevented us from obtaining a delicious bagel breakfast at Einstein's. There was no time to execute Plan B—we were supposed to be down on the National Mall by 9:30—so we hopped on the Metro with little in our stomachs beside a few nibbles of some of the orange-colored snacks we had bought the night before. (Cheetos, Cheddar & Sour Cream Potato Chips, Goldfish, etc.) Our new plan was to find something to eat once we got to the Mall, and luckily there was a lovely McDonald's right when we got off the train. But by then I was too nervous to eat. Joy and Dools made friends with the teenager working the register and slipped him some limited edition trading cards. McDonald's LOVES the Wranglers!!
We finally got to the proper field of play after some sort of hoopty-hoo mix-up about new sod on the field we were supposed to be on. Fortunately, there was a gaggle of bicycle cops on the sidewalk who took a liking to the Lady Wranglers, but were desperately unhelpful as far as directions on how to find the rest of the kickballers. Again, trading cards were passed out and the po-po asked where the ladies were headed after the tourney in a bizarre reversal of "Where's the Party, Occifer?" cause the Occifer was all "Hey, where's the party, ladies?"
Anyway, I don't think they were very good police officers because they never showed up at the party and that does not seem like a very good effort to serve and protect.
And here's where the story starts getting good. We show up to the fields where all the other teams are congregating, etc. Some of them were having little team pow-wow's, all huddled in a circle talking strategy. One team was actually engaged in a group warm-up activity that was reminiscent of high school soccer: jogging in a line, high knees, grapevines, kick the butt. They were even jumping for headers, or similar.
Well, we had to check in with our very official government issued photo i.d.'s so we could be certified and bona fide and get our little wristbands to prove it. I almost had to get smacky-hoo-ha with the chick that was checking us in, though, because she was very strict about the "wristband must be on the right wrist" rule even though I strongly opposed for religious reasons. (Just kidding, really I just hate those wristbands and how they go scratchy-scratchy on your skin and I wanted it on the left side where it would cause the least trouble.) But, of course, this is WAKA, and they are very serious about their kickball.
We suited up rodeo style, strapped on our cap guns and horses, cowboy hats and boots, and we were ready to kick some Off In Public ass.
According to the scouting report we had received via email in days prior, our opponents, Off In Public (pronounced Off In Poo-Blic) were supposed to be total jerks (A charge one of their mothers would later dispute). Other kickballers in D.C. said they played cheap and dirty and all they cared about was winning. Supposedly they would drop infield flies on purpose, use pinch runners ad nauseum, and crap like that. Their pitcher was supposed to be the best, although apparently not the "best around" as something did eventually keep him down.
Anyway, most of those things turned out not to be true and they were actually quite congenial folks and seemed to genuinely appreciate our rodeo get-ups. The pitcher was, indeed, quite skilled and he sure did throw it fast and spinny. They employed the bunt-bunt-sac fly strategy to great success against our fun-loving competitor style. But to be honest, it wasn't that much fun to play against them because they bunted 80 percent of the time, which was difficult to defend against, and, in general, not very exciting. We put up a good fight, though, and best of all we attracted quite a following from the Boy Scouts of America, who swung our Rally Noodles like I have never seen before and daresay I shall never see again.
The quarterfinal ended in a 7-1 defeat for the Wranglers and decent people everywhere. When I called my dad after the game, he reminded me that second place is first loser, but I found comfort in the fact that we actually ended up in seventh or eighth place overall -- and seventh loser somehow seemed better than first loser in a double-negative-makes-it-a-positive kind of way.
I will also rest easy knowing that I remain undefeated in the pre-game Rock-Paper-Scissors showdown to determine home field advantage. But back to the boy scouts….Boy scouts LOVE the Wranglers! There were loads of them on the sidelines cheering for us and Joy even bought one of them a Wrangler Nation T. Even better, these were not your average "Atomic Fission Merit Badge" boy scouts. These were the COOL boy scouts. I've written a letter to BSA headquarters requesting that they institute a Wrangler Nation merit badge for best cheering section ever on the planet. Have not heard back yet.
After witnessing part of the semifinals and finals, which were hyper-intense including a captain shouting at his team "Everybody take a knee!", we came to the conclusion that the kickball gods must be crazy and departed forthwith for Kelly's Irish Times for the after party. (Actually, Dooley and I stayed behind for a bit to kick it live at the concession stand for some Rocket Pops! We met more boy scouts there, who, although lovely children, were the not-so-cool kind of boy scout as evidenced by the fact that one of them informed me he had indeed earned the Atomic Fission Merit Badge, but unfortunately could not show it to me because he had not brought his "badge sash" out for sightseeing that day.)
The kickball bash was super fun and the DJ played all the Wranglers' favorites! We danced and sang and played flippy cup and ate food. And Sweaty Rodeo Clown even won one of the raffle prizes!! Tickets to OZ Fest the next day in D.C., totally useless prize as is, but when sold to the highest bidder raked in some cash for pizza later on! Yippppeeeee! Thanks, Swett!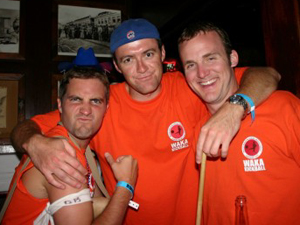 Which brings us to the pool party on a fancy rooftop with an incredible view of the D.C. skyline and monuments. A member of the team Crazy Kickers lived there and was nice enough to invite us over for a swim. You kind of have to wonder about someone who invites 15 of the biggest nuts at the bar to a fancy rooftop pool… but I think we behaved ourselves relatively well despite the cheesy photo shoot that was happening just yards from us that was SO tempting to jump in on. We got a keg and ordered some pizza (Yeah, Domino's!!) and took a dip in the swanky pool. It was lovely…
Until, for reasons unbeknownst to me, Mark "Tootie" Frasier started taunting the Capitol building: "Oh, look at me! I'm the Capitol Building! I'm so big! I'm so tall!" And the next thing I knew people were doing keg stands! And the amorous bikini girl was trying to get the dirt on Swett from Lady Wranglers. "Does he like keg stands?" she asked. "I don't F-ing know, girl!" Timmy Dubs was earning a reputation for being a sissy with a pitiful 7-second stand, and the coveted Silver Pitcher was suggested for use in a game of Sink the Biz. Things were getting crazy.
Now, Dave and I went home earlier than the rest, but from what I hear, that moon was hitting some Wranglers in the eye like a big pizza pie and you know what that means: Amore!! Apparently, the fancy rooftop may as well have been called the Love Rooftop the way people were sucking face all over the place. There was a lot of inter-city romance from what I hear. And bikini girl got what she was longing for: 7 seconds in heaven with a rodeo clown. Nice job, Swett. And big props to the other Wrangler maker-outers that will remain nameless. (Sadly, I did not make out, and back at Amy's place my husband-to-be snored on the couch while I wrote the official epilogue for the Tribune. Is this what married life has in store??? Wake up, Dave!!!)
Well, that's OK because I got to live vicariously through the single Wranglers who came home at approximately 3:30a.m. with all the fantastic stories of tonsil hockey disguised as "going to get tacos," and all the details of the cab ride home where Lubbers apparently "suddenly" became a pervert. And then everybody crashed hard-core after a long day in the hot sun.
Sunday:
Things were winding down and some friends already had to say goodbye to catch early flights, etc. But a good chunk of us moseyed out to RFK stadium to catch a little Nationals vs. the Astros game. Yippppeeee! So fun!
But then it was time to go to the airport and that was not fun. Boo-hoo. Hard to believe our glorious season was actually coming to an end. It was a Wild Wride. Unforgettable. We'll never be the same. Thanks for the memories.
And thanks for flying American Airlines, the official airline of Rusty's Wranglers.
-------------
Don't forget: The Wrangler Prom is coming up on August 12th!
And we're looking at starting a new season in September….so keep those kicking legs in shape!
MOUNT UP!!!
Michelle "Life Coach" Dooley gives advice to Off In Public's Cisco on how to make his life a little sillier: "Start with something only sort of silly, like a T-Shirt party."

Monday, July 25, 2005
Wranglers are World Champs of Silliness
Well, there's good news and bad news for Rusty's Wranglers Amateur Kickball Club this weekend as we wrap up our not-really-so-much of a Cinderella dance to the World Championships of kickball in Washington, D.C. The bad news: We are not world champs. The good news: Boys scouts LOVE the Wranglers! Come to think of it, everybody loves the Wranglers!

We arrived on the National Mall, betwixt storied institutions of our nation's capital, on Saturday morning and knew we were in trouble when the pre-game breakdown from the referees included a warning, at the behest of our opponents, that all of our rodeo-themed costuming—including strap-on stuffed horses, cowboy hats and holsters—would be considered fair game for tag-outs. It was clear from the outset: Our opponents were hardcore. But with our orange-clad fan club, Wrangler Nation, in full effect on the sidelines, including a pack of boy scouts from Moline, Illinois, swinging the Wranglers' signature Rally Noodles over their heads, it was hard not to smile.

Alas, the quarterfinal against D.C. locals "Off In Public" ended in a 7-1 defeat for the Wranglers and decent people everywhere. When I called my dad after the game, he of course reminded me that second place is first loser, but I found comfort in the fact that we actually ended up in seventh or eighth place overall—and seventh loser somehow seemed better than first loser in a double-negative-makes-it-a-positive kind of way. I will also rest easy knowing that I remain undefeated in the pre-game Rock-Paper-Scissors showdown to determine home field advantage.

Of course, the Wranglers always rest easy knowing that, while we may not be the World Champions of Kickball, we are definitely World Champions of Silliness. At the after-party Kickball Bash at Kelly's Irish Times, we showcased our fun-having talents by dancing away the afternoon while fielding requests for autographs on the premiere edition of Wrangler trading cards (Collect them all!). We seem to have what the French refer to as a certain je ne sais quoi, the ability to inspire in onlookers young and old an uncontrollable urge to jump on for a swing on the Wranglers Wild Wride. And we're always happy to oblige.

Coming next summer: A Very Wrangler Wedding! Cap'n T-Dizzy and Dave "The O.Z." Osborne get hitched.